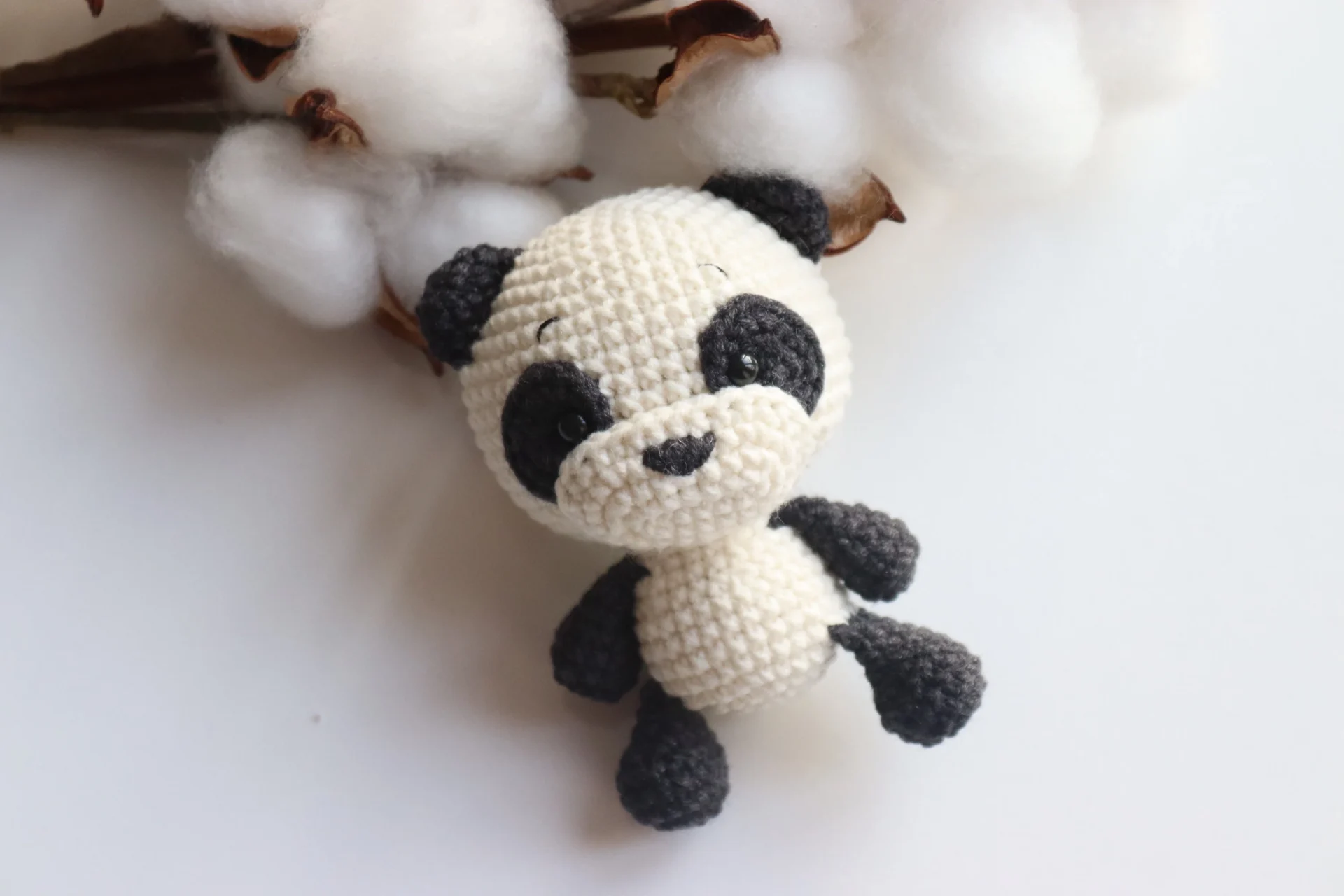 Crochet Cute Panda Keychain Amigurumi Free Pattern
Hello dear visitors, I am here again with new amigurumi molds for you. I am sharing amigurumi patterns for you here for free. You can make your children happy by making these patterns. Amigurumi toys are very popular lately and are the most beautiful toys that don't harm your kids. Your kids will love them. Let's move on to our pattern and give them this gift.
MATERIALS
Wihite yarn art jeans (03)
Black yarn art jeans (28)
6 mm eyes
1.75 needle
Black thin yarn (for eye)
Fiber
Abbreviations
X : Single crochet
V : increase
A : decrease
Sh : macig rink
Ch : chain
CC : slip stitch
W : Hit the same single needle 3 times
Dc : double crochet
Black eye circle
5ch start from 2nd
Rnd 1. 3x, W, 3x, 3W : 12x
Rnd 2. 3x, v, v, v, 3x, v, v, v : 18x
Fnish it cc,
Let a bit yarn for sewing.
Place the eyes to the balck
HEAD
Rnd 1. 6x in SH :6x
Rnd 2. (v)6 : 12x
Rnd 3. (x, v)6 : 18x
Rnd 4. (2x, v )6 : 24x
Rnd 5. (3x, v)6 : 30x
Rnd 6. (4x, v)6 : 36x
Rnd 7. (5x, v)6 : 42x
Rnd 8. 42x
Rnd 9. (6x, v)*6 : 48x
Rnd 10-17. 48x (8 rows)
Place the eyes between 14th and 15th
Rows there should be 6x among them
(2nd eye to the 7th x)
Rnd 18. 3x, a, (6x, v)5, 3x : 42x
Rnd 19. (5x, a)6 : 36x
Rnd 20. 2x, a, (4x, a)5 : 30x
Rnd 21. (3x, a) : 24x
Fill aut the head
Rnd 22. x, a, (2x, a)5, x : 18x
Fnish it cc.
Sew the black part to the head.
NOSE
7ch start from 2nd
Rnd 1. 5x, W, 5x, W : 16x
Rnd 2. 5x, v, v, v, 5x, v, v, v : 22x
Rnd 3. 5x, v, x, v, x, v, 6x, v, x, v, x, v, x : 28x
Rnd 4. 28x knit this row extra tough
Hang the nose and knit it under
the eyes.

After sewing the nose a little,
fill the fiber.
EAR
Rnd 1. 6x in SH :6x
Rnd 2. (v)*6 : 12x
Rnd 3-4. 12x (2 rows)
erect ears after the 5th row
ARM
Rnd 1. 7x in SH :7x
Rnd 2. (V)7 : 14x
Rnd 3-4. 14x (2 rows)
Rnd 5. (5x, a)2 : 12x
Rnd 6. 2x, a, 4x, a, 2x : 10x
Rnd 7. 10x
Combine with 4x
FOOT
Rnd 1. 6x in SH :6x
Rnd 2. (V)6 : 12x
Rnd 3. (x, v)6 : 18x
Rnd 4-5. 18x (2 rows)
Rnd 6. 4x, 5a, 4x : 13x
Rnd 7. 4x, 3a, 3x : 10x
Rnd 8. 10x
Combine with 5x
BODY
Rnd 1. 6x in SH :6x
Rnd 2. (v)6 : 12x
Rnd 3. (x, v)6 : 18x
Rnd 4. (2x, v )6 : 24x
Rnd 5. (3x, v)6 : 30x
Rnd 6. 5x,( knit first leg with 5x)
10x, (knit 2nd leg with 5x)
5x
Rnd 7-9. 30x (3 rows)
Rnd 10. (3x, a)6 : 24x
Rnd 11. 24x
Rnd 12. (2x, a)6 : 18x
Fnish with cc and led some
Yarn for sewing.
Arm straight to the sides
More Amigurumi Panda İdeas